Tidung Island, New Paradise
7 August 2010
5,678 views
No Comment
Tidung Island is one of the villages in the Seribu Islands. The island is divided into two, namely, Tidung Besar(Big) and Tidung Kecil(Small). The island also has a considerable population. Tidung Island is a unique place, especially for marine tourism and diving. Coral reef ecosystems in this island is still in a quite good condition, especially when snorkeling or diving activities in the area of bluff. The research activities are also often done in this area.
This island consists of Tidung Besar and Tidung Kecil connected by a long bridge is located in western of Seribu Islands Selatan, with a mileage of approximately 3 hours drive from Muara Angke by ship.


Tidung Island is estimated to have only 200 meters wide but about 5 km long, surrounded by white shades shallow beach overgrown with coral and filled with ornamental fishes. There's no big waves in this beach since the cluster of corals surround it able to withstand the waves, makes it safe enough for swimming.


There are many friendly settlements can be found in this island and also a few stalls that provide food and drinks, along with public facilities, such as police office, high school for students from all around the island, and a collection of stores into the long bridge that connects the island of Tidung Besar and the inhabitants Tidung Kecil. Health centers and district offices are also arranged beautifully and cleanly all the way through Tidung Island.
At the beginning of the connecting bridge, you will find a fairly high part of the bridge to pass the ocean basin, where there are many local children demonstrate their leap diving from the bridge, quite entertaining and also very tempting to join them diving in blue beach without waves.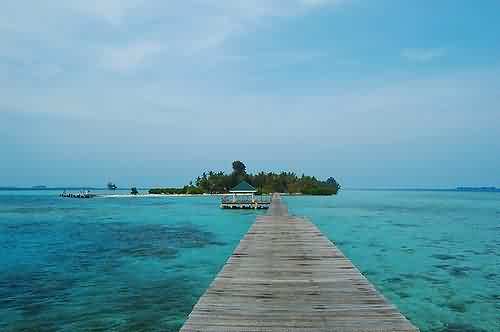 At the end of the connecting bridge, up the coast of Tidung Kecil which is a breeding area of mangroves, you can bicycling around witnessing the beautiful scenery of deserted beach of soft white snad filled with mangroves and weeds.
Tips
Ships from Muara Angke to Tidung island rose only once a day, at 7 am, so you had to leave extra early as well.
Prepare for the 3 hours sail to Tidung Island
Contact Person

Lodging Owner(Pak Haji Abdul Hamid / aka aji Mid): 085 888 742 129
Pak Wardi, which provides meals, snorkeling equipment, rental boats, bicycles,barbeque equipment, fish stalls, anything can get into the pack with tel number: 085 693 565 464

Costs (per person) from Jakarta (Rp 9000 = US $1)

Taxi Kuningan- Muara Angke: Rp. 20.000
Ship Muara Angke – Tidung (2 ways): Rp. 33.000
Lodging (Rp. 300.000 / 8 persons): Rp. 37.500
Rent a bike (calculated at 1 day): Rp. 15.000
4 meals (@ Rp. 15.000): Rp. 60 000
3 kg fish + barbeque supplies: Rp. 12.500/person, total Rp. 100.000
Rent boats for snorkeling (for two groups): Rp. 31.250/person, total Rp. 250.000
Snorkeling equipment: Rp. 20.000
Ships from Pramuka Island- Muara Angke: Rp. 30.000
Public transportation and Taxi Kuningan-Muara Angke: Rp. 22.000
TOTAL = Rp. 281.250

Without taxis: Rp. 250 000 (rounding)
Don't take a taxi from Muara Angke, because it does not use the meter, so ride public transportation to where there are public taxis as Pluit or Grogol.
Currently, there are fast boats from Marina harbor for Rp. 30.0000. There is also additional ship from Tidung Island on 11 am but only on Saturday and Sunday.
Have fun, and take care!
Write back your experience here if you would ;).

View Seribu Islands in a larger map

Tags: beach, indonesia, island, jakarta, java, Muara Angke, seribu, Seribu Islands, Tidung Island, US