Serui, The Pearl of Cendrawasih Bay
5 November 2009
1,564 views
No Comment
Beatiful City On The Yapen Island
If you want to forget the fatigue due to the big city bustle, maybe you can arrange for a trip to this quiet place with the natural indescribable beauty.
One of the places you can think of for your visit is a city named Serui, located in Yapen island, Papua.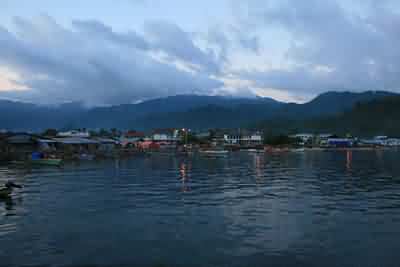 Serui is the capital of Yapen Waropen district and is located in the South Yapen district. Yapen Waropen itself is located in Cendrawasih Bay and consists of two main plains, the Yapen island and the Waropen mainland. Geographically, Yapen Waropen lies between 01,027 and 02,027 south latitude that extends from 135,004 to 135,005 East Longitude with an area of 19,994 km2 area, or 4.6% of the land area of Papua Province.
You can go to Yapen Waropen either by air or by sea ferries. The ships passing through this route and anchored in Port Serui as well as local boats from other areas. Twin Otter aircraft owned by Merpati Nusantara Air Lines (MNA) flies three times a week with Biak-Serui route back and forth. You can rent or charter taxi in Serui to reached your destination.
This area has abundant natural resources that are still untouched with incredible beauty where most of these areas covered by tropical forests and mangrove forests. Many of 819 species of orchid that grows in Papua can be found in the Yapen Waropen. You also can find many unique animals such as Cendrawasih, Black Cockatoo Bird, partridges, parrots, Crowned, lizard, Star Fruit turtle and others.

View Serui in a larger map
Tags: Biak Serui, Cendrawasih Bay, island, papua, Twin Otter, Yapen Waropen