Sempu Island, The Beach and The Lake
17 December 2009
1,256 views
No Comment
Just.. Wonderful.
This natural tourist attraction is not as famous as other object in East Java like Mount Bromo. However, you'll find that less-famous doesn't always mean less-beautiful.


Away from the riot of city, the natural atmosphere and not a single building standing on this island, not even a restaurant or hotel. Sempu Island, is a small island located south of Java Island. The island is located in the area of Malang, East Java. Currently, Sempu Island is conservation area protected by the government. There are more than 80 species of protected birds and also other animals such as wild boar, deer, monkey, and if you're lucky enough you can see the traces of the leopard.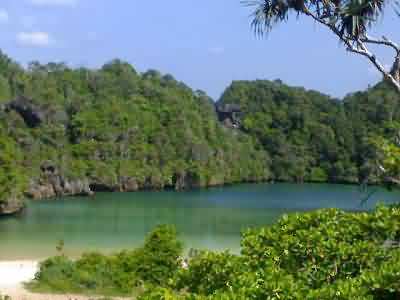 The uniqueness of this island is that we could be crossing from Java to Sempu Island when the tide is low. Visitors are crossed out and back in the morning and afternoon, because the crossing could only be done at the moment and not even more than at 16.00 pm. Other than that, you'll have to use a boat which will cost you US $10 for 15 people and a tour guide. (An advice: you don't need a tour guide, there's only one way so you won't get lost, it took about 1.5 hours to walk from Sempu Island to Segara Anakan)


Segara Anakan is the best thing I remember about Sempu Island. It's a lake. The water in Segara Anakan is derived from the waves crushing the rocks. Some water was flowing into the lake through large holes in the middle of the coral.


If you want to stay overnight can stay at local villager's inns. Or you could also open your own tents on Sempu Island, but campers should first ask permission at the checkpoint in Sendangbiru located directly across the island Sempu. This is done for the sake of conserving the habitat and the environment surrounding the object of this Nature Reservation.

View Sempu Island in a larger map
Tags: east java, island, java, lake, malang, segara anak, Segara Anakan, Sempu Island