Pangandaran, The Second Bali
11 September 2010
1,230 views
No Comment
As a beach that directly facing the Indian Ocean, Pangandaran was once hit by tsunami strikes back in June 2006. However, the main tourism object of Ciamis, West Java, is quickly recovered. Now the tourism activity on the beach also known as the second Bali has been re-bloom.
Moreover, it's now easier to reach the tourist sites. Previously, it took about 8-9 hours from Jakarta, but now 6-7 hours is enough. That can't be separated from the operation of the new Cikampek-Purwakarta-Padalarang highway. The only challenge now is traffic jam at Nagreg street in certain days.
For visitor from East (Central Java or East Java) it's even easier by train. From Banjar station, it takes only 45 minutes by car.
The name 'second Bali' is not exagerated. Because, the east coast and the west coast are quite close together. Just like Sanur Beach on the east side of Bali and Kuta Beach on the west side.
The uniqueness comes from the geographic form of Pangandaran which is a peninsula, similar to the human neck. The head is Pananjung Nature Reserve. With a form like that, Pangandaran visitors can easily enjoy the sunrise on the east coast and sunset on the west coast. The distance of the coasts is only 500 meters.
Pangandaran is a sloping beach, such condition makes it possible for visitor to enjoy many attractions like parasailing, jet skiing, wind surfing, scuba diving, and snorkeling. Those who visit in June or July can also enjoy the international kite festival.
In Pananjung Nature Reservation, tourists can peek bison, deer, and other animals, and the beauty of the nature reservation.The area is about 530 hectares. Visitors can also enjoy the rare flora and fauna, such as raflesia padma flower, buffalo, and various species of monkeys. In addition, there are natural caves and man-made caves.
It is said that Pananjung was the center of Galuh Pangauban Kingdom on around XIV century AD. The famous king was King Anggalarang. Pananjung Kingdom was destroyed by the attack of Bajo (pirates) because the royal family refused to sell their crops to the pirates.
Overall, the southern coast of Ciamis offers a lot of tourist attractions in addition to Pangandaran. Places like Karang Nini Beach, Lembah Putri, Karang Tirta, Batu Hiu, Green Canyon, Batu Karas, Keusik Luhur, and Citumang.
Green Canyon or Cukang Taneuh or Land Bridge is a giant tunnel approximately 100 meters long with steep cliffs covered with stalagmites and stalactites hang like a spear. Before entering the tunnel, visitors will have to travel by boat down the river with valleys and big trees along the way.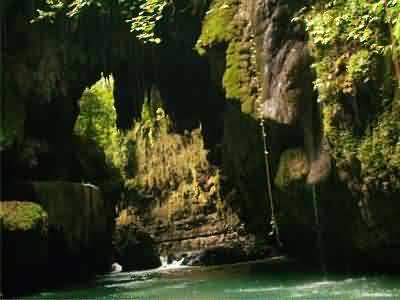 While Batu Hiu is a big black rock like a shark that swimming on high tide. The place is often visited by those who want to become famous sinden (traditional singer), gamelan player.

View Green Canyon, Indonesia in a larger map
Tags: Batu Hiu, batu karas, central java, east java, green canyon, Keusik Luhur, Pananjung Nature Reservation, tourism object, tourist sites, west java