Londa Cave, Natural Cave Used For Cemetery
17 September 2010
1,297 views
No Comment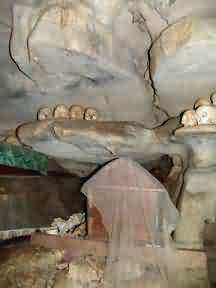 Traveling to Tana Toraja is not complete if you haven't visited Londa Cave because the burial area in the caves and cliffs is one of the unique tourist attraction that is hard to find in any other place.
Londa is a natural cave used as a cemetery. The cave is located in the village Sa'dan Uai, Sanggalangi District, about 15 kilometers from the center of Makale.
For Toraja people, Londa Cave is sacred. Even so, the cemetery which maintained by family foundation is open to anyone. Visitors are required to comply with certain traditional rules while in the place. One of 'em is not allowed to move, let alone take, the skulls scattered in the corners of the cave (But seriously, would you?).
Around the door of the cave, it seemed tens, even hundreds, of an old coffins and skulls and bones of humans who had been buried in that place. Coffins are stuffed in the corners of the cliff some are even hanged.


Some sculptures are also made for the buried bodies that resembles the corpse's face. The sculptures are equipped with fashion, clothes and gloves, which are adjusted by gender of the corpse. The sculpture is called 'tau-tau'.


The cemetery consists of three levels. The first level is located in the cave and the base of the cliff. The second level is in the middle of the cliff and the third level on top of the steep cliff with a height of about 200 meters.
This level is adjusted to the social status of people who will be buried. One who is buried at the base of cliffs and caves are one with mediocre social status. The middle for the middle social status, while one was buried on top of the cliff is a group of nobles and kings.
The sculpture or tau-tau was reserved only for nobles.

View Londa Cave, Cemetery in a larger map

Tags: cave, Londa Cave, Sanggalangi District, tourist attraction, View Londa Cave