Karimunjawa , Jepara, Central Java
4 December 2009
1,382 views
No Comment
The Group of Islands With Typical Animals
Karimun Jawa is a group of islands located in Jepara, Central Java. Since the atmosphere is still natural, that group of islands in the Java Sea is a perfect choice for an exotic pleasure location. Karimunjawa has an area of 11,625-hectare with the status as a marine national park and a conservation. Among the 27 islands in the group, only five are inhabited.
Those five islands are Karimunjawa / Karimunbesar (4302.5 ha), Kemujan (1501.5 ha), Parang (690 ha), Nyamuk (125 ha), and Genting (135 ha). The main attractions in Karimunjawa is pure natural panorama and fascinating typical fauna.


Karimunjawa fauna consists of the mainland species. Such as deer, long-tailed macaque, pangolin, porcupines, snakes, tongtong stork, gray heron, albatross, and wedi wedi. And, a relatively rare, the white belly sea eagle. While the water fauna species are coral reefs, sponges, soft corals, bahar root, red shells, turtles, and ornamental fish.


To enjoy the scenery under the sea, visitors can ride the glass ship. So called because the center of the deck of the ship deliberately made of glass so passengers can directly see the underwater sights. But for those who want to have live experience with the sea dwellers can always choose to dive or snorkeling.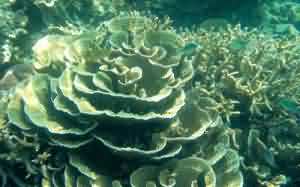 The best time to visit the islands is April-October. Other than that, strong winds occur in the Java sea that is not conducive to shipping and tourism activities. Karimunjawa has 4 types of land and aquatic vegetation, which is lowland rain forest, mangrove forest, beach forest, and seaweed / seagrass. Lowland forest dominated 80 percent of the island where there are many 'jambon' trees (Acmena acuminatissima), gondorio (Bouea macrophylla), rokok-rokok, uyahuyahan (Procris penduculata), coconut (Cocos nucifera), sea pine (Casuarina equisetifolia), and many others.

View Karimunjawa in a larger map
Tags: central java, forest, islands, java, jepara, karimunjawa, sea