Green Canyon, Greener Green
18 December 2009
48,875 views
One Comment
Exoticism Along The Way
Green Canyon is a natural tourism object located Village Kertayasa, Cijulang, Ciamis regency, West Java. It's about 7-8 hours from Jakarta by car or 45 minutes from Pangandaran beach (we'll write about this beach, later).
Previously, this tourism object is called Cukang Taneuh (Land Bridge), a place that has a big potential of natural scenery with a wide range of charm and tourist attractions that could attract tourists to visit this place.


To reach the location, we are obliged to hire a boat costs Rp. 75.000/boat (US $7.5) with a capacity of 5 passengers. It would be much cheaper if we visit it with family or friends. Usually this place is so crowded with local and foreign tourists on holidays. Therefore, we have to queue waiting for our numbers behind the ticket to be called . After the ticket number is called, we went down to the dock to get on the boat. There are buoys for every passengers in this motor boat.


Thus, the journey began. During the journey we were served with exotic river view. In addition, the atmosphere around the river was so quiet. The sound of wind blowing the trees and the occasional birds sound complements this challenging journey. And if you ever heard about Komodo Green Canyon has its little brother, a big lizzard called 'Biawak'. These reptiles breed in this Cijulang river. So not surprisingly, we often see these animals along the way. There also other animals such as Kadut Snake, Monkey and Crocodile.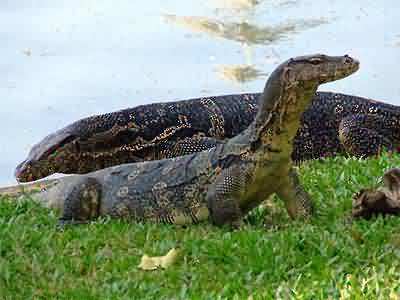 After 20 minutes, we came to 2 solid hills. Curve after curve, and we came in a Green Canyon cave with unique stalactit and stalagmit . A remarkable sight, the captain tried to park his boat for us to come down. The green toska colored river flanked by two towering cliffs and the cool breeze. It is an exotic place, the flow of water in there were pretty fast, unlike when we started our journey into the cave. With buoy tied up tightly and wrap plastic camera, the adventure began. We were swimming in the river that has a depth of up to 2 meters against the flow. Green cliffs that looked very solid and large stones, complements the beauty charisma while we were on it. Words just can't explain the panorama.
The History of the name "Green Canyon"
As explained above that the Object Nature Tourism real name Cukang Taneuh which means Land Bridge. Since on the upstream of Cijulang River, there is a wide land bridge of 3 meters wide and 40 meters length. The bridge connects two cliffs above the river that forms a tunnel.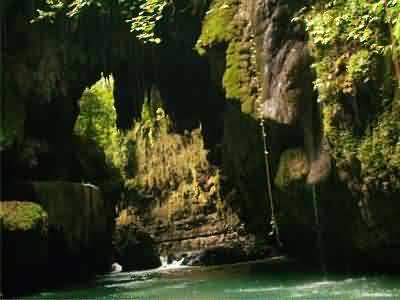 The name Green Canyon came from foreign tourists who are traveling in this place several years ago. This foreign tourist sail along Cijulang river and named the place the Green Canyon. As a comparison to Grand Canyon in America. Until today, although the name Cukang Taneuh is still written on the boards near the entrance gate most people are more familiar calling it Green Canyon. Maybe it's because the name Cukang Taneuh is difficult to say, or the name Green Canyon is better for publicity.

View Green Canyon, Indonesia in a larger map
Tags: boat, Cukang Taneuh, green canyon, java, Land Bridge, nature, river