Goong Renteng, The Forgotten Heritage
18 September 2010
2,282 views
No Comment
Goong Renteng is Sundanse typical kind of gamelan(set of traditional musical instruments)which is quite old. Goong Renteng has been known since the 16th century, and spread in various regions of West Java.
According to Jakob Kunst (1934:386), Goong Renteng can be found in Cileunyi and Cikebo (Tanjungsari region, Sumedang), Lebakwangi (Pameungpeuk region, Bandung), and the Cirebon Keraton Kanoman. In addition, Goong Renteng can also be found in Cigugur (Kuningan), Talaga (Majalengka), Ciwaru (Sumedang), Tambi (Indramayu), Mayung, Suranenggala, and Tegalan (Cirebon).
Form of Art


The term "Goong Renteng" is a fusion of the words "Goong" and "Renteng"(eng:joint). The word 'Goong' is an ancient Sundanese term meaning gamelan, while the word 'Renteng' associated with the placement of pencon-pencon kolenang (bonang) placed in rows, or nga'renteng' in Sundanese. So, literally, Goong Renteng is Goong (pencon) placed / arranged in a row (ngarenteng).

Goong Renteng has two kinds of barrel; one barreled salendro and one barreled pelog. The complete set consists of kongkoang, cempres, paneteg, and goong. Kongkoang, cempres, and goong are classified as idiophone; while paneteg (a kind of drum) is classified as membranophone. From how to play it, kongkoang, cempres, and goong are classified as percussion; while paneteg as a means of pat. In the ensemble, and cempres kongkoang functioned as melody,paneteg as the rhythms, and Goong as the cover song or song cycle.
Repertoires in Goong renteng generally not increased. Even the songs still remain the same old ones, no new songs.
Physically, Goong Renteng has some similarities with gamelan degung, but in terms of age, Goong Renteng considered older than degung, so there are some who suspect that gamelan deung is a development of Goong Renteng. Maybe because of its age, gamelan renteng now generally regarded as sacred gamelan, treated specially with ritual beliefs.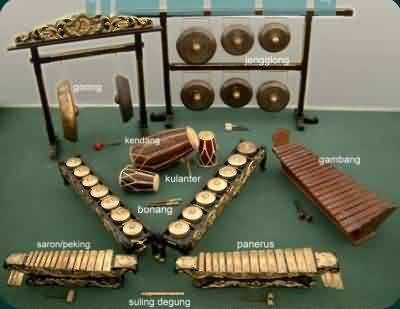 Social function
The actual function of Goong Renteng in Sundanese culture had not clearly known yet. We can only say based on the story as well as the ongoing functions of Goong Renteng on several groups of Sundanese nowadays.
Earlier, Goong Renteng was used to enliven the state parties in the district. Goong Renteng in Indramayu region traditionally played on the day before the day of celebration, when people are busy working to prepare for the celebration. It's a sign that the next morning is the peak day of celebration. In addition to the presentation of the songs (instrumental), kuda lumping dance also enliven the celebration, accompanied by Goong Renteng.
Goong Renteng is not very popular now. Even Indonesian media have never tried to introduce and popularized it. Therefore Goong Renteng as a typical Sundanese gamelan is now virtually unknown by the Sundanese themselves. It's only recognized by the board of the village, where the gamelan is located.
Tags: bandung, Cigugur Kuningan, Cirebon Keraton Kanoman, gamelan, Goong Renteng, rhythms, sunda, Talaga Majalengka, west java